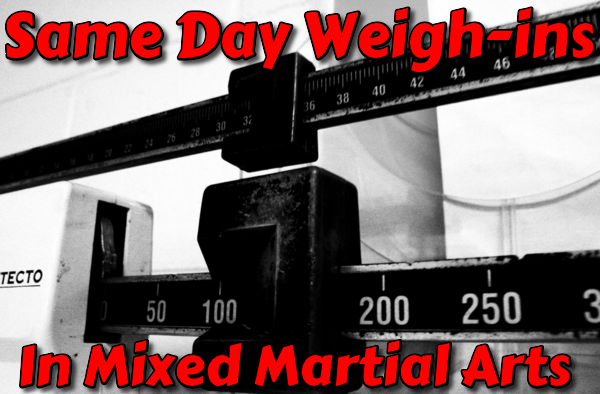 By Rich Davie
@RichDavie
November 1, 2014
It was recently announced by Andy Foster, the Executive Director of The California State Athletic Commission, that California is contemplating additional safety measures for MMA fighters.
The new safety measures being considered may see the addition of same day weigh-ins and body testing that will most likely have fighters who actively and consistently look to get the edge over their opponents by cutting way too much weight for their body shape and size moved to more appropriate weight classes.
In other words, if this new safety measure pans-out we'll see fighters fighting in the divisions where they truly belong instead of what many fighters consider cheating by fighters who are cutting massive amounts of weight to gain an advantage over their opponents.
We've seen this same old story over and again in MMA, and most recently as examples, we saw Henry Cejudo and former UFC Bantamweight Champion Renan Barao trying to game the system in order to get the edge over their opponents.
When you have professional MMA fighters fainting and knocking themselves unconscious due to their extreme weight cutting, it's time to put an end to all of the talk about weight cutting, which is simply being used as a means to cheat, and put an end to the practice of extreme weight cutting altogether before another MMA fighter literally dies from the practice.
Apparently Andy Foster is seriously concerned about this problem in MMA, as he will be meeting with Greg Sirb and David Berlin to discuss potential changes regarding weight cutting with The Association of Ringside Physicians (A.R.P).
The Association of Ringside Physicians have been vocal about the problems with excessive weight cutting by fighters in the recent past, and will also seek to implement these changes in the world of boxing as well.
Hydrastatic testing will be among some of the new testing measures to determine how much weight can be safely cut from a fighter's frame and what division he or she should be fighting in.
Body measurements will be taken of fighters in an effort to determine an athlete's body fat composition, and some of the measurements taken will include :
Caliper measurements of a fighter's body
Caliper measurements of a fighter's back
Caliper measurements near the fighter's shoulder blades
Caliper measurements of a fighter's stomach
Caliper measurements of the back of the fighter's arm
From these new testing / safety measures the fighter's minimum competition weight will be determined, and once the established lowest weight for a fighter has been determined that lowest weight for the fighter will be placed on the fighters permanent record with both the Association of Boxing Commission's database and the Fight Fax database.
This of course will have an impact on more than a few MMA fighters, as many MMA fighters choose to fight in weight classes that are not "natural" to their size and frame.
In addition, the goal is to ensure that male fighters don't gain more than 7 percent over the period where their minimum fight weight has been established to avoid over hydration, and that female fighters do not gain more than 12 percent over their minimum established fight weight.
I think this is a great idea... and from what I can gather from several fighters that I've spoken to on the topic of extreme weight cutting, I think the majority of professional MMA fighters will support these weight cutting safety measures as well.
What's you opinion on this potential evolution in the world of MMA ?