I keep reading about the military and law enforcement conducting "maneuvers" and training / preparing for "worst case scenarios... WTF is the Government, Military, and law Enforcement really preparing for ?
Here's the latest "maneuver" law enforcement in South Florida is conducting :
Dolphin Mall used as training site for active shooter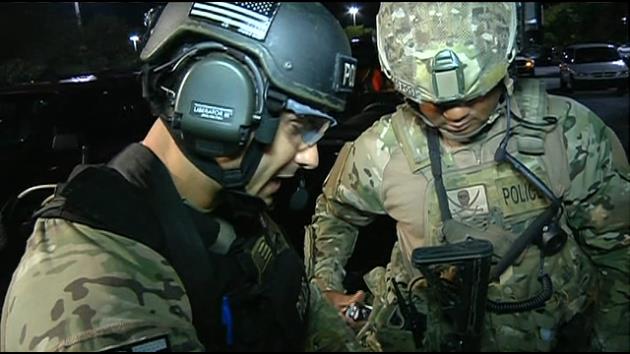 Posted: May 14, 2014 1:28 PM EDT
Updated: May 14, 2014 1:28 PM EDT
Link to video :
http://www.wsvn.com/story/25515939/dolphin-mall-used-as-training-site-for-active-shooter?autoStart=true&topVideoCatNo=default&clipId=10160377
SWEETWATER, Fla. (WSVN) -- Local law enforcement agencies prepared for the worst case scenario at Dolphin Mall as they trained in a mock drill, Wednesday morning.
The training exercise was designed to expose officers to the threat of an active shooter in a populated shopping mall.
Nine different tactical teams including, federal, state and local law enforcement were armed with drones, armored vehicles, high powered rifles and K-9s.
Sweetwater Police Chief Jesus Menocal said, "If something were to happen here, not only do we have police officers assigned to the mall, but we have other agencies that would respond quickly that we train together with."
The officers rescued victims, negotiated with a suspect who had taken a hostage and treated injured officers.
Sweetwater Mayor Jose Diaz said, "I think the community feels safer, and they feel the police department is here to protect them."
It was a dramatic dress rehearsal that is held at least once a year.
http://www.wsvn.com/story/25515939/dolphin-mall-used-as-training-site-for-active-shooter

_________________
Even when I'm 100% certain of a fight outcome, I'm only 75% sure... and of that, there's only a 50/50 shot that I'm right.

"The further a society drifts from the truth, the more it will hate those that speak it." - George Orwell

Too many people prefer the blue pill... me, I prefer the red pill.         Belief Creates Its Own Reality

"You cannot invade the mainland United States. There would be a rifle behind every blade of grass." - Isoroku Yamamoto

The problem confronting the world today is that the world is full of ideologues who are more concerned with promoting their ideology than dealing in the facts.

An uneducated populous will fall for anything - Dr. Benjamin Carson

Stick with me... and you'll be wearing horse turds as big as diamonds !