Spider finds himself far from new competition for the title: 'champion passed Phase'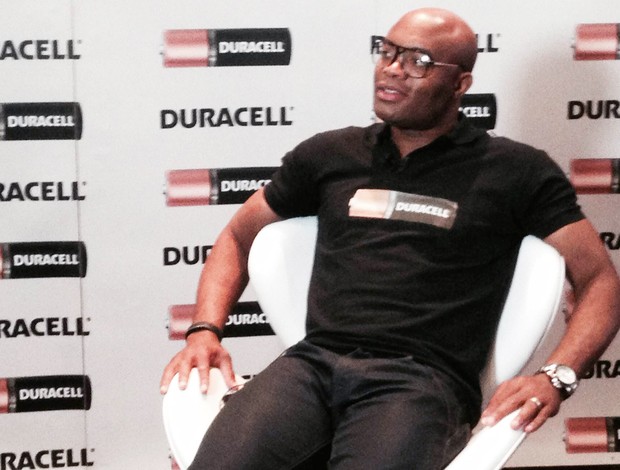 Anderson Silva thinks not meet ten-fight deal with the UFC (Photo: David Abramvezt)
[Translated through Google]
Despite good recovery from broken leg, Anderson Silva says he should only fight again in mid-2015: "This year is over for me '
By David Abramvezt
Sao Paulo
Recovery from broken left leg Anderson Silva is surprising a lot of people. After the serious injury occurred at UFC 168 in December, Spider underwent surgery and passed this phase, almost every week is posting photos and videos with the progress of your treatment. Until kicks he has begun to bear - a lightweight, true - but those who think that the Brazilian is close to returning to the Octagon at Ultimate. The truth is that it still has a long way to go before becoming able to fight again. In an interview with Combate.com in São Paulo, the former middleweight champion's return provides only for the next year. It will not be in the first months (
Video here
).
- Those predictions that will fight at UFC 181 on an upcoming event or are not true. This year is already over for me.
Can you fight in the middle of next year - the Spider, is surprising to say that does not have many claims to fight for the belt again said:
- The stage of champion Anderson passed. Fight for it was a bit far for me.
More Combate.com: check out the latest news from the world of MMA
I do not see myself stopping, but do not know if I'll have bag to fulfill the contract of ten fights "
Anderson Silva
The middleweight division is renewed, new forces are excelling, leaving Anderson with the certainty that it will only enter the octagon for a few more little then end his career. He participated in two events since signing a new agreement ten fights with the organization, but with all the changes that caused the injury in his life, he now believes it can not go ahead.
- I see no stopping me, but do not know if I'll have bag to fulfill the contract of ten fights. For many years the family asks me to stop, and they need to understand that is what I love to do and I need to take my time. But my mission was to become a reference in the sport, and I'm able to do my part.
The Spider is in Brazil for the first time since suffering a fracture. He arrived in Rio de Janeiro last week before heading to the state capital.
http://sportv.globo.com/site/combate/noticia/2014/03/spider-se-ve-longe-de-nova-disputa-por-titulo-fase-de-campeao-passou.html

_________________
Even when I'm 100% certain of a fight outcome, I'm only 75% sure... and of that, there's only a 50/50 shot that I'm right.

"The further a society drifts from the truth, the more it will hate those that speak it." - George Orwell

Too many people prefer the blue pill... me, I prefer the red pill.         Belief Creates Its Own Reality

"You cannot invade the mainland United States. There would be a rifle behind every blade of grass." - Isoroku Yamamoto

The problem confronting the world today is that the world is full of ideologues who are more concerned with promoting their ideology than dealing in the facts.

An uneducated populous will fall for anything - Dr. Benjamin Carson

Stick with me... and you'll be wearing horse turds as big as diamonds !