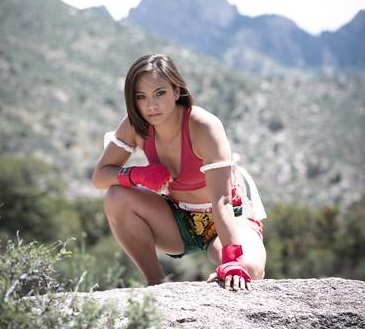 Michelle Waterson knew she was meant to be a fighter.
Before the current Invicta atomweight (105 pounds) champion even stepped inside the cage, she knew. Waterson began her martial arts journey in karate and she enjoyed the artistry involved with that discipline.
But she had a hunger for more hand-to-hand combat fighting.
"I wanted to be able to say that I could fight. That I could do the combative side, too," Waterson said Monday afternoon at Zuffa headquarters in Las Vegas.
Fast forward more than seven years later and Waterson has not only become one of the top fighters in the sport, she's one of the most recognizable female fighters in the world. She's helped bring women's MMA to new heights, and on Sept. 6 in Kansas City, Mo. she'll make more history when she headlines the first-ever Invicta fight card on UFC FIGHT PASS.
The top-ranked 105-pound Muay Thai expert said she couldn't be more excited to help bring Invicta Fighting Championships – an all-pro women's mixed martial arts fight series -- to a new audience on UFC FIGHT PASS.
"It's great, and the fact that [Invicta and UFC have] joined together, and UFC is helping to build Invicta is a blessing. I just think that this is the beginning of something great," Waterson said.
Before Waterson started competing in MMA she began her career fighting amateur Muay Thai events. While in college she worked part time at Hooters and as a ring girl in various MMA events to help pay her way.
That's where she met Donald "Cowboy" Cerrone. Waterson remembers him laughing when he first heard she wanted to become a professional fighter.
"At the time, I was working at Hooters part time while I was going to college. I picked up a side gig being a ring girl, and I met Donald Cerrone there. I was really interested in fighting, and I had already started doing Muay Thai," she said. "So I told the promoter that I was interested in fighting, and he kind of looked at me and laughed. I told Donald, and he did the same thing."
Soon enough, neither was laughing anymore.
"Well, a fight fell through on a smoker card, and the promoter came into my work and said, 'If you want to fight, get your ass in the gym,'" Waterson said. "So I started training and I had my pro debut in MMA right after I turned 21 (Feb. 16, 2007), and I've been fighting ever since."
Waterson has always had the sense that she has something to prove – in part, because of her size, but also because she's a female fighter. When she went to Thailand to train Muay Thai, she had to work even harder to show her toughness. She had to speak up to get any attention at all.
"I would always wonder because we'd train for a little bit and then (the trainers) say, 'you're done.' (My trainers) were afraid I wasn't going to come back the next day, because it's too hard," Waterson said. "I was like, 'No! I want to do whatever (other fighters) are doing. It looks like fun.'
"So then they kicked my butt. They spent two weeks just working on my roundhouse, because I come from a karate background. I was doing the chamber kick and the chamber back, and they made fun of me because my feet blistered up. They even called me a white girl. They said that I didn't have tough Thai skin.
"But I fell in love with the combative side. I think fighting, more than anything, forced me to face my fears and stand up for myself, and kind of be true to myself."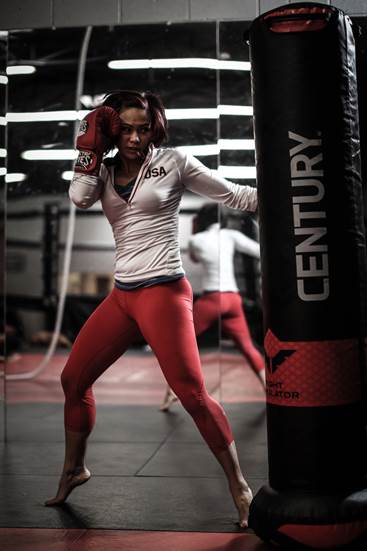 The next challenge facing the 28-year-old Waterson is Yasuko Tamada, who will challenge for the atomweight title in the main event of Invicta FC 8: Waterson vs. Tamada on Sept. 6.
Waterson said she expects Tamada to "bring her A-game," and called the Japanese fighter a tough girl who is always ready to fight.
"The Karate Hottie" said she has had a very good camp so far and is excited to step onto the big stage on UFC FIGHT PASS. She trains in Albuquerque with the likes of Holly Holm, Julie Kedzie and UFC light heavyweight champion Jon Jones.
Waterson said she respects all three and credits Kedzie specifically for her success. As far as training with the champ, Waterson said everybody at the gym can learn from Jones just by watching.
"Jon is hilarious and he's always cracking jokes in the gym and making the girls laugh. But it's cool to see him switch – he's one person when he's coming into the gym and putting his bag down, and turns into a completely different animal when he gets into his training mode," she said. "When he's done sparring it takes a good 10 minutes before you can even talk to him because he's still in the zone. It's cool to see that and you can learn just from watching him. "
As far as the future is concerned, Waterson is happy to take one fight at a time and continue to build her skill set inside the cage. She said just being herself is the perfect recipe for continued success.
"When it comes to women's MMA there are a lot of things that have been happening, and it's like this progression that's been erupting out of the ground and out of nowhere. It's cool to be a part of it and see it happen," she said. "I like to think that I'm the type of person that will rise to the occasion and represent the company in the light that [Invicta President] Shannon [Knapp] wants to be represented in. All I have to do is be myself and train hard, and show up on fight night and let my instincts take over."
http://m.ufc.com/news/michelle-waterson-ready-for-big-stage